Please check your profile in the secure Online Law Alumni Directory to be sure it is accurate. Your profile includes personal as well as employment information. You can also select the types of practice areas or industries where you work. Fellow alumni often use the directory for business referrals by searching practice and geographic areas. Go online to log on or register as a first time user. Once registered you can update your information and privacy levels, search for fellow alumni and Mason Law event registration forms will be auto-filled with your current contact information.
2014 CALENDAR OF EVENTS
---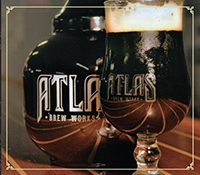 Raise a Glass and Support the Law Alumni Association Scholarship
Thursday, Nov. 13
7 – 9 p.m.
School of Law | Arlington Campus | 215 Hazel Hall
The Law Alumni Association is hosting a beer tasting and food pairing with D.C.'s Atlas Brew Works. Justin Cox, Mason Law Class of 2009, founder and CEO of Atlas, will be on hand to talk about the brewery and the beers being served. Four rounds of beer will be paired with tasting plates from Lyon Hall to complement each beer. After the program, you can retry your favorite beer/s!
Tickets are $50 per person with $20 from each ticket going directly to student scholarships at Mason Law. Tickets include all beers, soft drinks and food. The currently proposed tasting menu includes Applewood Smoked Short Rib Sliders, ginger slaw with Rowdy Beer, Slow Braised Berkshire Pork Belly, pickled chilies, peanut, butter lettuce with Common Beer, Poached Maine Rock Shrimp crostini, fennel, tomato, saffron with Saison Beer and Cinnamon Sour Cream Panna Cotta, apricot gelee, cornmeal crumble with Barrel Aged Saison Beer.
Space is limited so RSVP online today.
---
Lunch Reception at the Virginia State Bar Admission Ceremony
Wednesday, December 3
noon – 1:30 p.m.
Convention Center, Richmond, Va.
Mason law alumni and their guests are invited to a lunch reception preceding the Bar Admission Ceremony. Alumni in the Richmond area are encouraged to attend as well to welcome their colleagues to the Bar. Orientation for New Lawyers begins at 1:30 p.m., preceding the Admission Ceremony at 2 p.m. in the Richmond Convention Center. Registration with the State Bar will open at 12:30 p.m. Our lunch will be available at noon at the Richmond Convention Center in Room E11ABC.
Please complete your reservation online by Thursday, Nov. 27 and provide the names of your guests who will attend the lunch. Please note that the food and beverage bar will remain open throughout the reception, so guests are welcome to come and go as they please.
---
WAYS TO BE INVOLVED:
Law Student and Graduate Hiring Program
Looking for temporary or permanent legal help (paid or unpaid)? Then consider using the free services of the the law school's Career Services Office to attract law students or graduates. Our career development staff will work with you to advertise your needs and can oversee resume collection and interview scheduling. For further information on participating in this program, contact the Career, Academic and Alumni Services Office at 703-993-8020.
The cost of the program is $60 for Mason Law alumni and $90 for non-alumni attending. The program is approved for two ethics credits in Virginia for attorneys attending in person. Course materials and a continental breakfast will be provided.
---
VISITOR PARKING:
Founders Hall Garage: Visitor parking is now open. The rates are set at the prevailing rates for all University visitor garages. Currently the rates are $3/hour with a daily maximum of $14 Monday-Friday. After 5 pm on Fridays and all day on Saturday and Sunday, there is a flat daily rate of $7. Payment methods accepted: cash, coin, Visa/Mastercard, and Founders Hall validations.
GMU Metropolitan Building (3434 Washington Blvd): Visitor parking is allowed only with advance permission from Parking Services at all times. Parking is prohibited without a permit in the GMU leased spaces, and the hourly rates apply only to customers of the retail businesses in the building.
Metered parking is available on the streets around the law school and at the Truland Building (3330 Washington Blvd) on the surface level (located off Kirkwood Road).