News
July 2008 Virginia Bar Exam Takers Once Again Beat State Pass Rates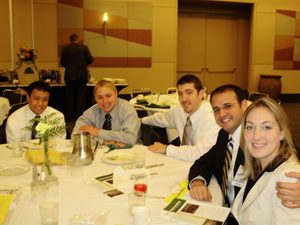 George Mason law graduates taking the July 2008 Virginia Bar Exam once again exceeded the state pass rates for both first-time takers and overall, in line with what has become the norm for our alumni.
Mason Law graduates had a first-time taker pass rate of 88.46%, higher than the state first-time pass rate of 84.98%. Overall, Mason alumni had an 87.3% pass rate versus a state pass rate of 79.7% overall.
Those passing the bar exam were sworn in at the semi-annual admission ceremony at the Greater Richmond Convention Center in Richmond, Virginia, on Monday morning, October 27, 2008. The event was preceded by the law school's congratulatory breakfast reception, shown in the accompanying photo, for its alumni and their guests.
October 28 marks the First Day of Practice Seminar for new lawyers sponsored by the General Practice Sections and the Young Lawyers Conference of the Virginia State Bar.