News
Supreme Court Justice Clarence Thomas in the Classroom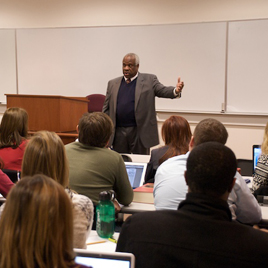 On Tuesday, November 18, Professor Neomi Rao's Constitutional Law class was privileged to learn about the subject firsthand from guest lecturer U.S. Supreme Court Justice Clarence Thomas.
Rao, who was a law clerk for Thomas in OT 2001, invited the justice to visit her class, which deals with structural constitutional law. He graciously consented, said Rao, and presented brief remarks, followed by a lengthy question and answer period lasting until the end of the two-hour class, which included both day and evening students. At its conclusion, Thomas remained for nearly an hour, shaking hands, signing books, and allowing students to be photographed with him.
Following is the text of an article about Thomas's visit written by Mason Law student Hilary Taylor and published in The Docket student newspaper. The article text is used with permission of the author.
On Tuesday, November 18, students in Professor Neomi Rao's Constitutional Law class were treated to a guest lecture by Supreme Court Justice Clarence Thomas.
For the full two hour course period, Justice Thomas took questions from students on a variety of topics, from the Court's overly broad interpretation of the Commerce Clause to the reason for his famed silence during oral arguments, and he answered the questions with an engaging blend of forthrightness, humility, and humor.
Justice Thomas explained the difficulties of constitutional law by relating it to other, more codified disciplines, such as property and tax law, where there are explicit rules for all situations as opposed to personal interpretations of where lines should be drawn. He admitted that in law school, he didn't find constitutional law particularly interesting, but changed his mind when he was the head of the Equal Employment Opportunity Commission and saw the Constitution's practical applications - a purpose beyond a potential answer on an exam.
Students queried Justice Thomas with a number of constitutional concerns, such as the Judiciary's checks on the President in a time of war (he argued for essentially none, as this is outside the Court's area of expertise). Additionally, the Justice raised a few points of his own, noting that the much-treasured right to free speech isn't technically in the Constitution, as the First Amendment simply says, "Congress shall make no law...abridging the freedom of speech." This prevents Congress from doing so, he said, but why can't other bodies, such as the University of Nebraska, do so?
Justice Thomas said that this is one of the primary things he teaches his clerks (a group which included Professor Rao in 2001 and currently includes a Mason alum) - not to cement themselves into old positions, and to always rethink them. When asked his opinion on stare decisis, he said that while he is often quoted as being against it, this isn't true. However, he pointed out, "I didn't take an oath to stare decisis - I took an oath to uphold the Constitution." He noted that unlike district and circuit courts, which are controlled by precedent, the Supreme Court has the power to change it, particularly in cases like Plessy v. Ferguson, which had been followed for sixty years. Precedent is important, he said, but a more important question was: was this separate but equal policy right or constitutional?
Many students also had more general questions regarding career advice and more mundane matters, and the Justice was kind enough to answer those as well. He said that the most effective attorneys are the ones who write well and write clearly, and that oral advocates are not the great persuaders. In his opinion, 95% of the cases the Supreme Court hears are decided by the briefs, and "that's being generous," he said, adding that a more realistic number would be 99%.
As for the most pressing issue for many law students, student loans, Justice Thomas said that he didn't finish paying off his student loans until his third year on the Supreme Court. When asked for career advice, the Justice said, "Worry about what's in front of you - and the rest will take care of itself." While that may seem easy for a Supreme Court Justice to say, he then shared his own story of graduating from law school with a wife and child and being unable to find a job, finally accepting a position with an Attorney General in Missouri because it was the only job offered to him. The Justice also noted that Mason students would have an advantage, as GMU actually teaches law, is exacting, and teaches analytical thought.
In closing, he told the students that they should come see arguments at the Court to make the cases more real and less theoretical, to remind themselves that - using the example of Kelo v. City of New London - it's not about law, it's about a person trying to protect their house, and using the Constitution to do so.