News
Law School Honors Gordon Tullock on His Retirement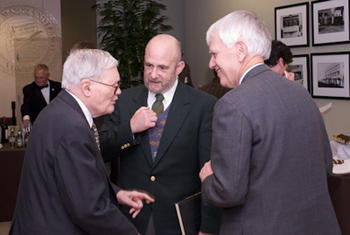 On Friday evening, November 21, 2008, the Levy Atrium in Hazel Hall was filled with approximately 100 well-wishers who came to honor Professor Gordon Tullock on the occasion of his retirement after a long career as a professor and a trail-blazer in the field of economics. Among those in attendance were the Cato Institute's Chairman Emeritus William Niskanen and Richard Rahn, Chairman of its Institute for Global Economic Growth.
George Mason University President Alan Merten, Dean of the College of Liberal Arts and Human Sciences Jack Censer, and Department of Economics Chairman Donald Boudreaux joined Dean Daniel Polsby in offering remarks in praise of Tullock.
"Gordon is one of the most important political economists of the past century. His services to the university, the law school, and to generations of students have been incomparable," said Dean Polsby.
Professor Tullock is best known for inventing the concept of rent-seeking: the use of political or institutional power to extract wealth transfers from the rest of the economy. His book, The Calculus of Consent (1962), co-written with George Mason University's James Buchanan, is a founding text of the public choice movement. A prolific writer, Tullock is the author of 16 books and more than 150 papers. His most recent book was published in November 2008, and he is currently working on two others. He received an honorary degree from the University of Chicago and served as president of the Southern and Western Economic Associations. In January 1998 he was a Distinguished Fellow of the American Economics Association.
With his retirement, Tullock moves from the ranks of Mason Law professors to the status of Professor Emeritus of Law. He has relocated to Tucson, Arizona, where he is living in retirement with his sister and brother-in-law, Mary-Lou and Bob Gunderson.