News
FantasyLaw 2009 Awards Ceremony Held January 12
The Green Bag's 2009 FantasyLaw awards ceremony was held on Thursday, January 12, at noon at George Mason University School of Law, where the 2009 League Champions and Congressional MVPs were presented with Harry A. Blackmun Trophies.
The Blackmun Trophy is a Supreme Court bobblehead produced by the Green Bag and available only to FantasyLaw League Champions and MVPs.
On December 24, the Green Bag announced the results of the first season (111th Congress, 1st Session) of FantasyLaw, a light-hearted game designed by the Green Bag to foster increased attention to and understanding of the work of Congress and to encourage the production of useful, readable scholarship about the work of Congress.
A FantasyLaw League consists of from 5 to 9 FantasyLaw teams, each of which is controlled by a different owner. A team consists of 10 federal legislators. In each league, the champion is the team with the most points at the end of the season.
Results of the 2009 season are as follows:
| | | |
| --- | --- | --- |
| Galloping Gophers League | Snack Cakes | Season score: 683.5 |
| Justice League | The Voting Elvii | Season score: 586 |
| Pro Se League | The Philly Busters | Season score: 621 |
| Stimulus Spending League | Speech or Debate Claws | Season score: 583.5 |
| House of Representatives MVP | Nancy Pelosi (D-CA) | 2961.35 average points per week |
| Senate MVP | John McCain (R-AZ) | 689 average points per week |

For more information about FantasyLaw, or to register for the 2010 FantasyLaw season, go to www.fantasylaw.org.
The Green Bag is a quarterly law journal devoted to "short, readable, useful, and sometimes entertaining legal scholarship." Mason Law Professor Ross Davies is its editor-in-chief.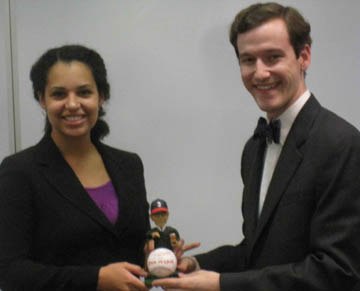 FantasyLaw editors Sarah Nash (left) and Joshua Cumby (right) pose
with John McCain's Blackmun Trophy at the award ceremony on January 12.