News
Commencement Ceremonies Celebrate Class of 2012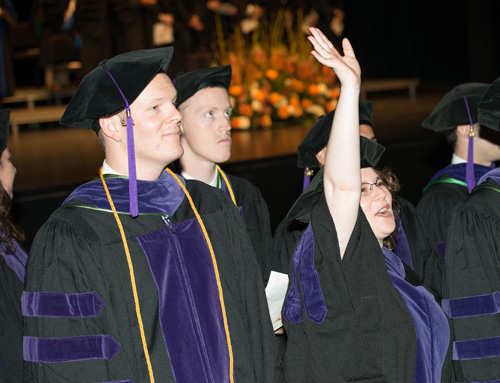 On Saturday, May 19, surrounded by family and friends, 221 juris doctor candidates received degrees from the School of Law, bringing to fruition the dreams and dedicated efforts that led each on a personal journey toward that moment.
The 2012 commencement activities were ushered in on Friday evening, May 18, with the Annual Graduation Reception held in the Levy Atrium, Hazel Hall, for graduates, their families, faculty, and staff. The reception is sponsored each year by the Student Bar Association and provides a festive atmosphere for a final class get-together prior to graduation day.
At 10 a.m. on commencement day, all 7,700 Class of 2012 graduates were honored at the university's traditional full commencement program held at the Patriot Center on the Fairfax Campus. At 12:30 p.m., members of the law school's Class of 2012 assembled for a panoramic class photo, afterward filing into the university's Concert Hall for the start of the School of Law's convocation at 2 p.m.
Dean Daniel D. Polsby presided over the law school convocation, which featured a guest address by Jonathan F. Mitchell, Solicitor General of Texas. Mitchell is currently on leave from the School of Law, where he holds the position of Assistant Professor of Law. Nathan Sales, Assistant Professor of Law, was selected as faculty speaker, while graduating students Catherine Marie Brown and Jim Howland were day and evening class speakers, respectively. Dean Polsby awarded Kristine Fargotstein, Ashley Finnegan, and Allison M. Tisdale the Law School Service Award during the ceremony for their contributions to the school. Graduating students Edward Redfield Brown, Elyse Dorsey, Matthew R. McGuire, and Chelsea Sizemore held the distinction of graduating summa cum laude.
Music for the law school convocation was provided by the George Mason University Jazz Ensemble, and presentation of colors was by members of the George Mason University United States Army ROTC.
The 2012 graduation program is available online.