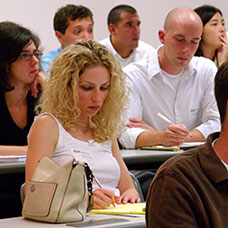 George Mason School of Law received a total of 5184 applications for fall 2007 admission. Twenty-three percent received offers of admission, and on the 17th of August, 267 first-year JD students started class. The entering group of full-time students possessed a median LSAT of 164 and a median GPA of 3.62.
The entering class was drawn from 147 different undergraduate institutions. Fifty-eight percent of the entering students are male, while 42 percent are female. Virginia residents make up 39 percent of the class, with the remaining 61 percent coming to Mason Law from outside the Commonwealth. Within the entering class, 176 first-year students attend classes as day students and 91 attend as evening students. The average age of entering students is 24.6 years.
Entering students hold a total of 38 graduate degrees as follows:
Admissions Inquiries
Applicants who have questions or who would like to visit the law school for a tour should contact the Admissions Office at (703) 993-8010. Office hours are 9:00 a.m. through 5:00 p.m., Monday, Tuesday, Thursday, and Friday. On Wednesdays office hours are 9:00 a.m. through 6:00 p.m.