The Antonin Scalia Law School at George Mason University employs 120 full-time and adjunct faculty members drawn from some of the top law firms and legal institutions in the nation. Our professors have worked in the White House, argued before the Supreme Court, and served as ambassadors to our most important allies and trading partners. Ranked 21st in the nation for scholarly impact, the Scalia Law faculty's output is also among the most downloaded on the Social Science Research Network, ranking 15th overall (July 2015 SSRN Top U.S. Law Schools).
Interested in one day delivering oral arguments before the Supreme Court? Why not learn from an actual Supreme Court practitioner?
Want to work in policy? Why not study under a former Chief Economist and Senior Counsel to the House Committee on Financial Services?
Hoping to clerk for a federal judge? Who better to learn from than a Senior Judge on the U.S. Court of Appeals for the D.C. Circuit?
Faculty Snapshots – Meet Some of Our Faculty!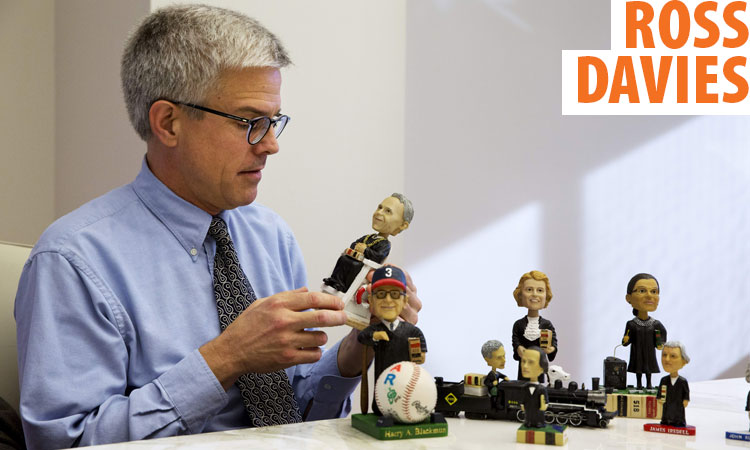 Professor Ross Davies teaches administrative law, contracts, legal history, and torts. He is editor-in-chief of the Green Bag—a nationally celebrated journal of "short, readable, useful and sometimes entertaining legal scholarship." Professor Davies is also known as the creator of the Supreme Court bobblehead series. Before joining Scalia Law, Professor Davies practiced at Gibson, Dunn & Crutcher and Shea & Gardner (now Goodwin Procter). He clerked for the Hon. Diane P. Wood for the U.S. Court of Appeals for the Seventh Circuit.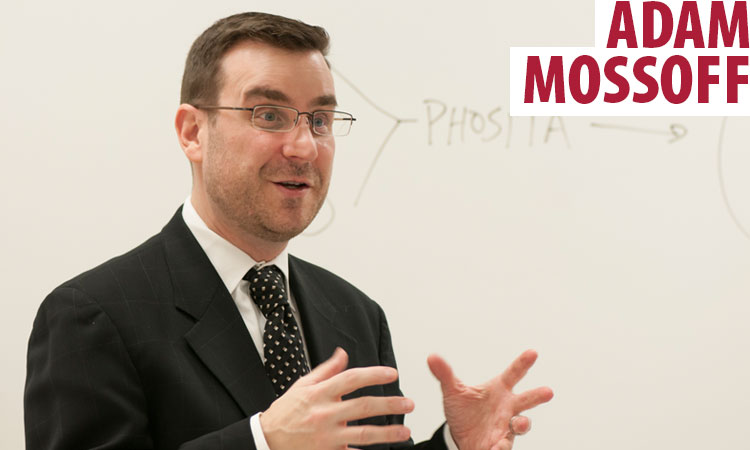 Professor Adam Mossoff is Co-Director of Academic Programs and Senior Scholar of the Center for the Protection of Intellectual Property, which he co-founded in 2012. His scholarship on patent law, trade secrets, and internet law is widely-cited, and his article on the Sewing Machine War of the 1850s has become an important part of the public policy debates concerning today's "smart phone war." Professor Mossoff has testified before the U.S. Senate, and has spoken at numerous congressional staff briefings, professional association conferences, and academic conferences, as well as at the U.S. Patent and Trademark Office, the Federal Trade Commission, the Department of Justice, and the Smithsonian Institution. He has published in many law journals, including the University of Pennsylvania Law Review, Cornell Law Review, and the Boston University Law Review.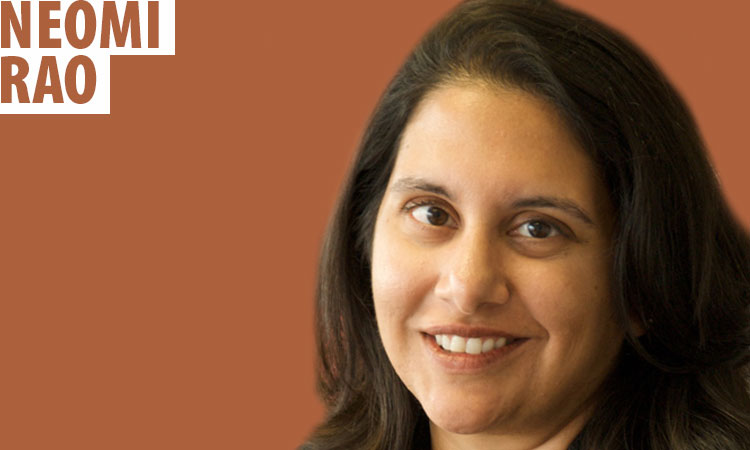 Professor Neomi Rao's scholarship is informed by her service in all three branches of government. Prior to joining Scalia Law in 2006, she served as Associate Counsel and Special Assistant to President George W. Bush, as well as counsel to the U.S. Senate Committee on the Judiciary. Additionally, Professor Rao clerked for Judge J. Harvie Wilkinson III on the U.S. Court of Appeals for the Fourth Circuit and for Justice Clarence Thomas on the U.S. Supreme Court. Her analysis of the use of dignity in constitutional law is widely cited in the United States and abroad.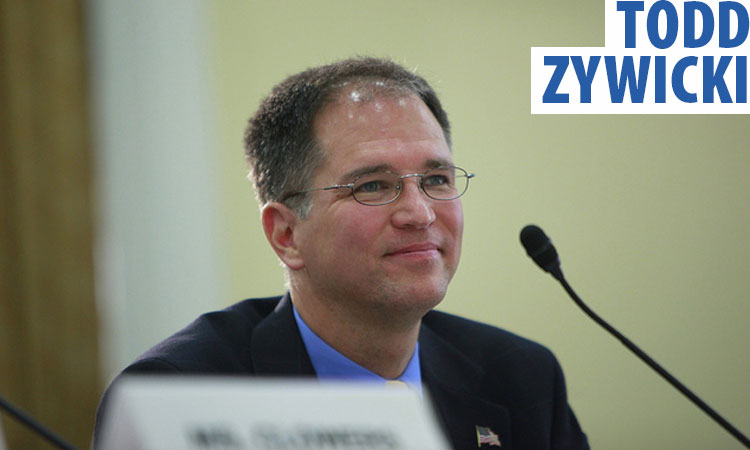 Professor Todd Zywicki is the Executive Director of the Law & Economics Center, Senior Scholar of the Mercatus Center at George Mason University, and Senior Fellow at the F.A. Hayek Program for Advanced Study in Philosophy, Politics and Economics. He is a regular contributor to the Washington Post's "Volokh Conspiracy" law blog, and has published more than 70 articles in leading law reviews and peer-reviewed economics journals. Professor Zywicki regularly testifies before Congress on issues of consumer bankruptcy law and consumer credit and is a frequent commentator on legal issues in the print and broadcast media – including the Wall Street Journal, New York Times, Washington Post, Washington Times, Forbes, Nightline, National Review, NBC Nightly News, The Newshour with Jim Lehrer, Fox and Friends, Fox Business, CNN, CNBC, Bloomberg News, BBC, ABC Radio, The Diane Rehm Show, Lou Dobbs Radio Show, Neil Caputo Show, and The Laura Ingraham Show.