Adam Mossoff
Professor of Law and Co-Director of Academic Programs and Senior Scholar of the Center for the Protection of Intellectual Property
B.A., University of Michigan; M.A., Columbia University; J.D., University of Chicago Law School
Professional Information
Subjects Taught: Internet Law, Patent Law, Property, Trade Secrets Law
Curriculum Vitae: CV in PDF format
Area(s) of Expertise: Intellectual Property Law, Internet Law, Legal History, Patents, Property Law, Trade Secrecy
Contact Information
Email: Send an email
Phone: 703-993-9577
Office: Room 319, Hazel Hall, Arlington Campus
Address: 3301 Fairfax Dr. Arlington, VA 22201
Biographical Sketch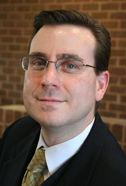 Adam Mossoff is Professor of Law and Co-Director of Academic Programs and a Senior Scholar in the Center for Protection of Intellectual Property at George Mason. He teaches and writes in the areas of patent law, trade secrets, property law, and internet law. He has published extensively on the theory and history of how patents and other intellectual property rights are fundamental property rights, with his articles appearing in the University of Pennsylvania Law Review, Cornell Law Review, Boston University Law Review, and other journals. His article on the very first patent war, the Sewing Machine War of the 1850s, has become an important part of the public policy debates concerning today's "smart phone war." He has presented his research on patent litigation, patent licensing, and patent pools at many academic conferences, law firms and commercial firms, as well as spoken at conferences or colloquia held by the PTO, the FTC, the DOJ, and the Smithsonian Institution.
Professor Mossoff is a member of the Public Policy Committee of the Licensing Executives Society, the Academic Advisory Board of the Copyright Alliance, and is Vice Chairman of the Intellectual Property Committee of the IEEE-USA. On behalf of these and other organizations, such as the Innovation Alliance, he has spoken at numerous congressional briefings on topics relating to patent and copyright law.
Professor Mossoff graduated with honors from the University of Chicago Law School, where he was a research assistant to Richard A. Epstein and held the Bradley Governance Fellowship. Following law school, he was a John M. Olin Fellow in Law and Visiting Lecturer at Northwestern University School of Law, and he clerked for the Honorable Jacques L. Wiener, Jr. of the U.S. Court of Appeals for the Fifth Circuit. He holds an M.A. in philosophy, specializing in legal and political philosophy, from Columbia University and a B.A. with High Distinction and High Honors in philosophy from the University of Michigan.