For a complete listing of full-time faculty with their biographies, see the Faculty Directory.
An Extraordinary Faculty is One of Our Greatest Strengths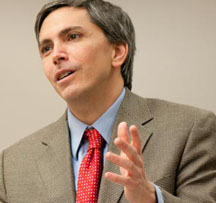 George Mason University School of Law has built a strong and unusual community of scholars based in part on the philosophies of two of its early deans, John Brabner-Smith and Henry Manne, who believed in an approach to legal education that encompassed more than the traditional study of cases and statutes.
Brabner-Smith argued that nineteenth-century law schools better prepared lawyers for practice because of a closer integration with universities, resulting in an enriched curriculum infused with the basic tools of finance, economics, politics, and jurisprudence. Manne, one of four acknowledged founders of the discipline called "law and economics," held a similar belief that law schools should offer academic specializations in areas such as economics, political and behavioral sciences, and science and technology to enrich and inform understanding of law, removing the "lack of realism" he felt existed in the casebook approach alone. He introduced economics into the law school's curriculum, calling it the "most powerful and applicable cross-disciplinary tool to use in collaboration with law."
It is in part the influences of those two deans that have helped to create a law faculty whose members are highly educated in multiple disciplines, hold varying political viewpoints, and possess a rich bank of real-world experience from which to draw. (See Intellectual History of the School of Law.)
Important Things to Know About the Law School Faculty
Over the years, the law school has developed and nurtured in its faculty a diverse group of scholars who infuse a variety of disciplines into the law curriculum. Approximately one-third of members of the full-time faculty hold degrees in economics, and a number of them have held key positions as economists in the past. Our full-time and adjunct faculties boast members who are experienced in such areas as political theory, philosophy, psychology, behavioral science, biology, and jurisprudence. Mason law students reap the benefits of this multi-disciplinary approach to legal knowledge.
The law school's faculty has been in existence for only three decades; however, in that period of time, its members have established themselves as intellectual leaders within the academy. A 2012 study on the Top 70 Law Faculties in Scholarly Impact, 2007-2011 ranks the Mason law faculty 21st in scholarly impact. Scholarly impact measures per capita citations to faculty scholarship, generally considered an indicator of faculty quality and reputation.
George Mason Law is ranked #21 in the February 2013 Social Science Research Network (SSRN) ranking of Top U.S. Law Schools by total new downloads of scholarly papers. In addition, three full-time faculty members are listed among the top 200 law authors for total new downloads for the same time period.
The School of Law's location adjacent to the nation's capital, in the heart of the East Coast's technology hub, and minutes from the U.S. Patent and Trademark Office, ensures that its professors bring real-world experience to the classroom. Full-time faculty members possess significant professional experience in the practice of law and public policy, and the law school's full-time faculty is complemented by a remarkable adjunct faculty that includes a significant number of federal and state court judges and prominent practitioners who deal with cutting-edge legal issues on a daily basis. The proximity of prominent legal figures, such as attorneys general and Supreme Court justices, also adds an important dimension to the classroom experience.
A representative list of government positions formerly held by current full-time faculty includes:
Chairman, Federal Trade Commission
Chief Economist, Federal Communications Commission
Commissioner, Federal Trade Commission
Chief Economist, U.S. House Committee on Financial Services
Assistant Secretary of the Air Force
Senior Economist, Federal Trade Commission
Deputy Assistant Attorney General, Department of Justice, Office of Legal Counsel
Director, Office of Policy Planning, Federal Trade Commission
Scholar in Residence, U.S. Federal Trade Commission Bureau of Competition
Deputy Chief Counsel, U.S. Sentencing Commission
Chief Counsel, Senate Judiciary Committee
Commissioner, U.S. Sentencing Commission
Executive Office of the President, Office of Management and Budget
Deputy Counsel, Office of the Vice President
Office of Legal Counsel, U.S. Department of Justice
Associate Counsel to the President, White House
Office of the Solicitor General, U.S. Department of Justice
Associate Independent Counsel, Office of Independent Counsel
Senior Research Associate, U.S. Sentencing Commission
Financial Economist, U.S. Securities and Exchange Commission
Chief of Staff and Counsel to Federal Elections Commissioner
Associate Judge, U.S. Army Court of Military Review, Judge Advocate General Corps
Special Counsel to U.S. International Trade Commission
Tax Advisor to Sen. Edward Kennedy
In the area of intellectual property, our distinguished adjunct faculty boasts a sitting Circuit Judge of the United States Court of Appeals for the Federal Circuit, the Solicitor of the U.S. Patent and Trademark Office (USPTO), a former Commissioner of Patents and Trademarks, a former Register of Copyrights, a former Examiner-in-Chief and Board of Patent Appeals and Interferences Administrative Judge, a former WIPO Director of Industrial Property Law, former chief counsels of the principal subcommittees on intellectual property in the United States Senate and House of Representatives, and prominent practitioners from most of the leading intellectual property law firms in the Washington, D.C., area.
---
Unique People with Varied Interests Inside and Outside the Classroom
Beyond their substantive academic credentials and professional histories, our professors are unique individuals with rich and varied interests outside the classroom. Learn more about a few of them in the following brief snapshots.
Professor Ross Davies
Davies is well known in legal circles as the creator of the Supreme Court bobbleheads, a series of likenesses of sitting Supreme Court justices in the form of dolls with nodding heads. Beginning in 2003 with a likeness of then-Chief Justice William H. Rehnquist, Davies has designed and produced to date six of the bobbleheads, each of which has made its public debut by appearing mysteriously on the desk of the honored justice. A key feature of the dolls is the symbolism of the artifacts included in the design, each harkening back to cases for which the individual justices are known.
Davies designed the bobbleheads as promotional giveaways for The Green Bag, An Entertaining Journal of Law, of which he is editor-in-chief. The limited-edition dolls quickly became coveted collectibles and have fetched high prices in auction forums such as eBay. In addition, the release of each doll attracts the notice of the legal community in general and the press covering legal issues in particular.
As one who teaches Contracts and Legal History, Davies also is known for his ability to entertain and inform with little-known facts concerning his areas of expertise.
Read more about the latest bobblehead release
---
Professor Michael I. Krauss
Krauss and his wife, Cynthia, hold a great love for Labrador Retrievers—so much so that they own and operate a small, family-run kennel, Blue Ridge Labradors LLC, that produces only a litter or two per year of world-class, field quality Chocolate and Black Labrador Retrievers. Each of the pups is carefully socialized during its 7-week stay with the family at its home in Western Maryland, and reservations are taken far ahead of time for each of the beautiful puppies.
The Krauss family cares deeply about their pups and is very selective about the sale of the dogs, permitting them to go only to homes where they will be treasured and allowed to pursue their natural instincts to run and retrieve. At this time, Blue Ridge Labradors reside in sixteen U.S. states, and Krauss keeps in touch with the adopting families.
Krauss is also a motorcycle enthusiast, spending as much time as he can traveling long-distances on his bike. Baseball is another of his great loves.
A past recipient of the university's "Teacher of the Year Award," Krauss teaches Torts, Legal Ethics, Products Liability, and Jurisprudence at Mason Law. His research on torts and ethics issues is nationally known.
---
Professor Ilya Somin
Despite claims from Somin's colleagues that he is a world-class juggler, he modestly proclaims himself a "moderately proficient amateur" who can juggle up to four objects. To be a professional caliber juggler, he says, you have to be able to juggle at least five objects.
Somin's interest in this unusual pastime was awakened in his early teens after his father gave him a book entitled "Juggling for the Complete Klutz." Since then, he has worked on juggling off and on.
Once a year, Somin combines his love of teaching with his love of juggling by generously donating his services as a juggling instructor to help raise funds for the law students' annual Association for Public Interest Law (APIL) Auction, thus allowing the winning students to have lessons from him not only in subjects like Constitutional Law and Property, but also in the art of juggling flying objects.
He is the author of a new book Democracy and Political Ignorance: Why Smaller Government is Smarter (Stanford University Press, September 2013).
---
Patrick Henry Professor of Constitutional Law and the Second Amendment Joyce Lee Malcolm
Malcolm has been fascinated by horses since her childhood, but she never had the opportunity to learn to ride until her husband presented her with a birthday gift of a dozen riding lessons, a riding helmet, and boots about fifteen years ago.
It was a gift, says Malcolm, that turned out to be the most expensive he ever selected for her, as within a year she had bought Duntrune, a beautiful grey Arab gelding. In the beginning, Duntrune was a nervous horse for a nervous rider, but Malcolm says that over the years the two have mellowed together.
Today Malcolm does more horse care than riding, as Duntrune has arthritis in both knees; however, she still enjoys spending time with her lovely animal. "It is always so soothing to be with him amid the rolling Maryland hills being reminded of what life is all about," she reflects.
Malcolm is a historian and constitutional scholar specializing in British and Colonial American History. She focuses on the development of individual rights and on war and society.
Her seventh book, Peter's War: A New England Slave Boy and the American Revolution was published by Yale University Press and nominated by the publisher for the 2010 Pulitzer Prize in the category of U.S. History.